---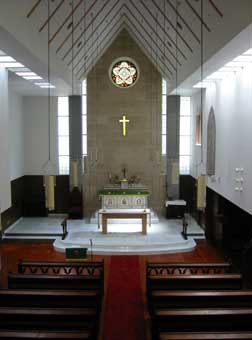 Nippon Sei Ko Kai
(Anglican/Episcopalian Church in Japan)
St Mary's Church, Kyoto
---
| | |
| --- | --- |
| | ŠJapanese version |
---
---
St Mary's Church was first built in May 1911 (Meiji 45), standing on the corner of Okazaki Street and Marutamachi Street in Sakyo-ku, Kyoto. It was built of brick, and the interior included an exquisite combination of straight and curved lines in the beams and ceiling, a marble altar, classical pews for the congregation and stained-glass windows. These all combined to lend the church a solemn and distinctive atmosphere.
Unfortunately this lovely church building that held so many memories had to be demolished in 1996, as a result of damage caused by the Hanshin (Kobe) earthquake in 1995. Now it is gone, and we shall never see its beautiful architecture or experience its special atmosphere again. However, we shall always treasure within our hearts the memory of the church and of all that took place there.
The congregation is planning to build a new church, and is now raising the money in the hope that we may complete the new building by the year 2000. In the meantime, we hold Sunday services in the kindergarten hall next door to where the church building used to be. The building is gone, but the church itself continues to live and grow in the community of its members.
---
Please write to us: fujiwara.kyoto@nskk.org (Rev.Takehisa Fujiwara)