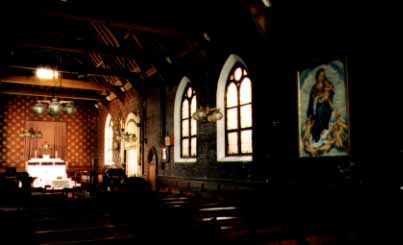 Since its completion in May 1911, 86 years ago, until recently St Mary's Church had been a familiar landmark not only for the members of its congregation but also for the people of Kyoto. It was with a heavy heart that we realized that the Hanshin (Kobe) earthquake of 1995, which destroyed so much of Kobe, had also dealt a fatal blow to our beloved church. Bricks became loose and began to fall out of the walls. One damaged
the marble altar. Naturally we were alarmed, and requested a structural evaluation of the building from specialists. They determined that owing to serious subsidence under the church, even a moderate earthquake would probably cause the building to collapse entirely. St Mary's Kindergarten is right next door to the church and so this would be extremely dangerous for the kindergarten pupils, and therefore the sad decision was made to pull down the church as soon as possible.
Of course, we want to build a new church. Since we had not expected to have to replace the church which we loved so well, however, we had not saved enough money to embark on the rebuilding. In fact, most of the money in the church's emergency fund went on paying for the demolition.
We began a drive to raise funds to rebuild a new church from 1997. And at last, we can have a completion caremony day of the new church on coming January, 2000. We'll be given it, thanks to many people's prayers and helps. But after the completion, we have to continue the drive to reach the goal amount. Please pray with us.
---