Kawaguchi Christ Church Cathedral of Osaka Diocese, NSKK (Nippon Sei Ko Kai
)
Anglican/Episcopal Church in Japan


The history of the Kawaguchi Christ Church traces back to 1870,

when C.M. Williams (Bishop),a missionary from the Episcopal Church USA, established a chapel (named Chapel Osaka).

Later, St. Timothy's Church was built in Kawaguchi Concession in Osaka, and the Eiwa EnglishSchool (which was the predecessor of St. Paul's University,
Rikkyo, in Tokyo) was attached.

In 1981, St Timothy's merged with Holy Comforter's Church nearby to form
the Kawaguchi Christ Church.
The present church building was built in 1920 by an American architect Wilson, and now it is the Cathedral of Osaka Diocese, NSKK (Anglican/Episcopal Church in Japan).
It is also designated as Tangible Cultural Properties by the Agency For Cultural Affairs and the Osaka Prefecture
.


✚Rector: Rev. Stephen Si-gyumg You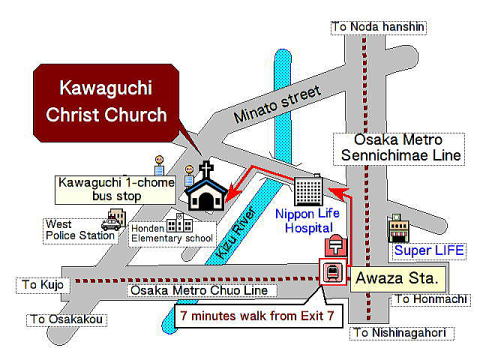 Access by train

Get off the subway at Awaza Station and take exit⑦
7minutes on foot


Access by bus

1 minute from "Kawaguchi 1-chome" bus stop on Lines 88 ahd 90


CONTACT US

1-3-8 kawaguchi Nishi-ku Osaka-shi,Osaka  〒550⁻0021
☎: 06⁻6581⁻5061   FAX: 06⁻6581₋4433
✉ kawaguchi@guitar.ocn.ne.jp