Original Japanese written by  staffer
The English below translated from the original Japanese by Heeday
The English translation edited by Rev. Dr. Henry French, ELCA
On October 29th, 2015, the hand bell choir of All Saints Chapel, Rikkyo Gakuin (schools in Tokyo and Saitama), held a mini concert at St. Paul's Kindergarten in Koriyama, Fukushima.
The concert began with a tune called "It's a Small World." This was followed by an introduction to hand bells. The kindergarteners, who had their first encounter with hand bells, seemed to be enchanted by the bells' graceful sounds. They listened very enthusiastically. Then, the kids tried working with the bells themselves. They seemed to be having a very good time, ringing the bells.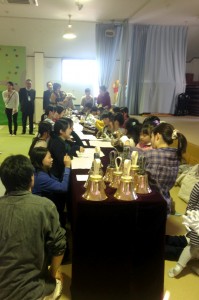 To conclude, the hand bell choir played two Japanese hymns, "Kotoritachi ha" and "Galilee no Kaze Kaoru Oka de." They were joined by the lovely voice choir of Rikkyo Gakuin. The kindergartners sang with them, enjoying a time of comfort with their parents.
Following the mini concert, we, the Project on Nuclear Power and Radiation, held a presentation in response to a question from the hand bell choir about the current state of Fukushima.
Some people of the BSA (The Brotherhood of St. Andrew in Japan) were there from the Kanto Region and they too were eager to see the presentation.
We told them that in Koriyama, Fukushima, most citizens were still living every day under stress related to radiation, regardless of what the Fukushima Daiichi meltdown had actually done to them. The whole audience listened to us intently.
To those in the audience who were college students when the Fukushima Daiichi meltdown began in 2011, our presentation likely included some things that they were hearing for the first time. Also, living in Tokyo, many of them were not aware of radiation problems. We hope that their visit to Koriyama has given them a lasting awareness of issues with radiation and nuclear power. They are the young ones who should build the future of our society.