Original Japanese written by Fumi Kawamori, staffer
Kay Ikezumi, Secretary General
The English below translated from the original Japanese by HeedayThe English translation edited by Rev. Dr. Henry French, ELCA
Our sub-project to "Walk Together" with mothers raising their kids, "PAX," held its first activity—Yoga & Massage Class for Babies—on June 30th, 2015, at St. Paul's Kindergarten. The instructor was Ms. Yoshie Hatakeyama.
At the beginning of the class, each participating mom held her baby on her lap. The mothers then sang a song, led by the instructor, while clapping their hands. As they sang, they moved their bodies as well as their babies' bodies. The instructor's bright singing voice and the mothers' cheerful laughter merged beautifully.
In a few babies, the oil used in the baby massage can cause an allergic reaction. To prevent this possibility, they first applied a small amount of the oil to the babies' skin (known as a patch test) to see whether any of the babies were allergic to the oil.
Once the participants' bodies were warmed up, they gradually tried some tougher exercises of the pelvis. After they were a little tired, they switched to "nursery rhyme exercises" which use colorful pieces of cloth to keep the babies entertained.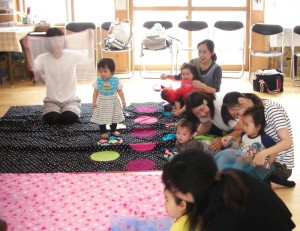 To conclude, the mothers stood up and walked round and round, holding their baby and singing.
After they were all comfortably perspiring, they removed their babies' clothes to see the results of the patch test. This time, none of the babies showed any allergic reaction. So, they applied the oil to the babies and, as instructed, massaged the babies gently.
The instructor has two daughters, lower and higher secondary school students, and she still gives them an oil massage. She noted that her daughters have grown up, and now spend more time than before in their own rooms. So, the oil massage provides good opportunities for communication between the instructor and her children.
Laughter ruled the class. A happy time flies like an arrow. After the class, the participants had lunch together, carefully prepared with ingredients kindly provided by "I Co-op," a consumers' cooperative. Some mothers working at the cooperative have kids who graduated from St. Paul's Kindergarten. The ingredients used for the lunch contained 1 Becquerel or less of radioactive substances, and most of them were produced locally.
To those moms with small children, a handmade meal is a wonderful treat. They seemed fully to enjoy the lunch and the friendly atmosphere. So did their babies, who had moved their bodies quite well. During the luncheon, the instructor gave the mothers some advice on child raising.
This was the first activity of this sub-project, and we had some uncertainty about how it would go. Still, it was a big success thanks to all the parties involved—and none of the babies started crying!
The next activity we plan to have is a trial aromatherapy class. We hope it will be another success.