Original Japanese written by Izumi Koshiyama, No Nuke Project
The English below written and arranged by Heeday, based on the original Japanese
The English edited by Rev. Dr. Henry French, ELCA
On Thursday, February 23rd, 2017, the kids of St. Timothy's Kindergarten, located in Onahama, Fukushima, took a ride on a big bus to visit "Aqua World," a prefectural aquarium in Ibaraki, Japan. Though their hometown, Onahama, stands on the Pacific coast and has its own aquarium, named Aquamarine Fukushima, it does not have dolphin and seal shows. Aqua World, located in Oarai, Ibaraki, has such shows. This made the kids very excited and happy.
In front of the shark tank, a boy of the kindergarten's mid-aged class had sparkles in his eyes as he shouted, "Here are sharks!!" He was a lover of sharks, and watched every single move the sharks made with both of his hands on the tank's glass.
Now, at the sea water tank of Okhotsk, the kids found many Paracanthurus hepatus, the fish featured in the Disney movie, "Finding Dory." They were lost in the movie world. "So many Dories!!!"
Until the Ocean Show began, the children savored their lunches together.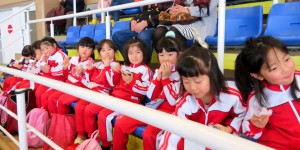 Now, the long-awaited Ocean Show. The performances of seals and dolphins made the kids go head over heels with excitement. "Hurrah, hurrah!! Yay!!!"