Original Japanese written by  staffer 
The English below written and arranged by Heeday, based on the original Japanese
The English edited by Rev. Dr. Henry French, ELCA
On Friday, June 17th, 2016, the senior children of St. Paul's Kindergarten, Koriyama, had an outing to Koriyama City Fureai (Fellowship) Science Center.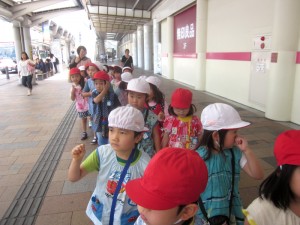 The Science Center is a museum focusing on outer space. Located in Koriyama, Fukushima, its planetarium is among the greatest in the whole of Japan. It occupies the 20th through 23rd floors of a skyscraper named "Big-i," which stands on the west side of the Koriyama railroad station. The museum's planetarium is registered by Guinness World Records as the "highest" planetarium in the whole world.
One potential problem was the weather—we expected rain to begin at anytime during the morning; however, there was no rain and the sky later cleared up.
The planetarium runs seasonal programs and, on June 17th, the theme was the constellations of the summer sky. The summer program gave the children easy to understand explanations of the "Tanabata" star festival. (Note: This is an annual summer event in East Asia, whose precise origin is unknown. The event portrays the legend of a female weaver and a cow boy who became a married couple beside "Amano-gawa" or the Milky Way.) All the children listened very attentively.
After the planetarium show, they moved to the observatory in the same building, where they looked down upon the whole city of Koriyama. They shouted out "yippee" as one bullet train after another came into the railroad station.