Newsletter of the "Project on Nuclear Power and Radiation" — Part II of the "Let's Walk Together" Project, the Anglican-Episcopal Church in Japan's efforts to "walk together" with victims of the Great East Japan Earthquake of March 2011
"Let's Walk Together" Project Part II                      Living Water
Volume 10, April 2016
http://www.nskk.org/province/genpatsugroup/English.html (Linked to the Provincial Office's website)      world without nuclear Anglican  Search
(Translated into English from the original Japanese by Heeday.
The English translation edited by Rev. Dr. Henry French, ELCA, except for the donation information and the Project's introduction)
Hooked on Producing Radioactive Waste




~~ Essence of restarting nuclear power plants ~~
---
 Revd. Makito John Aizawa, Chairperson,
Steering Committee, Project on Nuclear Power and Radiation
In discussions about restarting nuclear power plants (NPPs), people holding many different points of view contradict each other. Some speak from the viewpoint of energy, some from that of the economy, some from concerns for life, and some from many other points of view. Still, to us at the Project, the priorities are obvious. Restarting a NPP, in essence, means continuing the production of nuclear waste. What we have to keep in mind is that such waste does not come from nature and does not decompose back into nature. Worse yet, radioactive waste is something that none of our existing technologies can either decompose or neutralize. In short, a NPP restart creates an ongoing dangerous situation.
Some argue from the economic viewpoint. Are they simply saying, "As long as we can make money, anything goes"?
With respect to energy issues, it is clear that we need to change our systems of energy production, and the relevant parties should support such changes. With such changes, we would be able to move our society towards safer energy sources, e.g., power produced from solar, wind, wave, (geo)thermal, and other sources of energy. Also, obviously, if power production from alternative energy sources brings in monetary profits, more businesses will utilize them.
Now, what matter most is the issue of protecting life. The more we run NPPs the more radioactive waste we produce, a serious danger that we have no way to neutralize. We will be extending a present danger into the future. One anti-nuke poet wrote a "haiku" which goes: "Just restart (NPPs), there is no tomorrow for us." I find it quite persuasive.
The Anglican-Episcopal Church in Japan, at its 59th General Synod (2012), adopted a resolution named "For a World without Nuclear Power Plants – The Anglican-Episcopal Church in Japan Opposed to Nuclear Power Generation." It says: "…we call for… a conversion of Japan's energy policy toward the development of alternative sources of energy." Let's stand firmly, once again, on this resolution. We are living today and there will be people living tomorrow. We have to keep this "tomorrow" in mind. We have to create a society that respects life.
Important Notice
Our Project, active over the last two years, terminates with the Church's General Synod this year (2016). The Project on Nuclear Power and Radiation, begun as "Part II" of the "Let's Walk Together" Project, has been helping those affected by the March 2011 disasters, as well as spreading information on what nuclear power really is and does. Soon a report will be published on activities conducted over these two years. This is the last issue of the Project's bulletin, "Living Water." We thank all of you for having read our bulletin.
Although our activities to help those affected by the 2011 disaster are to be reorganized, we will continue them in some fashion, and we are currently making preparations to do just that. When it is decided how we will continue such activities, we will issue a notice to that effect.
We extend our gratitude to all those who have helped us in our activities, financially and/or otherwise, as we have sought to stimulate more people to be concerned about the dangers of nuclear power. In the coming years as well, every one of us will continue to strive to create a society that "values life."
The Project on Nuclear Power and Radiation
This is a committee of the Anglican-Episcopal Church in Japan, founded upon the work and direction of the "Let's Walk Together!" Project and the 2012 General Synod resolution "For a World without Nuclear Power Plants."
Executive Committee: Revd. Makito Aizawa (chair), Revd. Akira Iwaki, Revd. Kenzo Koshiyama, Revd. Tazuru Sasamori, Ms. Hiroko Miyawaki
Secretary General: Kay Ikezumi
Office location: 2-9-23, Hayama, Koriyama, Fukushima Prefecture 963-8876 Japan
Phone: +81-249-53-5987   Fax: +81-50-3411-7085
 Report on the Project's Activities in 2014 and 2015
---
The activities below are what we have accomplished, thanks to your help and prayers
[Research and Publicity Team]
So far, the Team has been studying what nuclear power truly is and does and sharing what we have discovered with the world. In addition to this bulletin, on November 1st, 2014, we published the 3rd impression of a revised edition of "NO-NUKE Q&A," which is also available in Korean and English. To see the "Q&A," you can visit the "Q&A" pages of our Project's website. Those pages are also linked to the Provincial Office's website. Furthermore, the Project's website and weblogs on activities to help temporary housing residents have been spreading the "honest opinions" of those "walking together" with victims of the meltdown in Fukushima. We earnestly intend to let as many people as possible know both what is happening in Fukushima and how devastating a nuclear plant accident can be. Also, we want people to learn from the disaster and to live wisely.
[Support Team]
1.Refresh (Retreat) programs
These regular outing programs for kindergarteners enabled children from Fukushima to refresh their bodies and minds by playing outdoors free from worries over radiation. Also, people from some other Dioceses of the church have provided both help and encouragement, creating cherished memories for the children and their parents. In addition, we have been holding support programs for mothers of Fukushima who are experiencing an extremely tough time raising their children amid fears of radiation.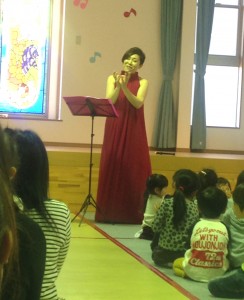 ▲Moved by songs and sign language messages of Ms. Kazumi Ushijima from the Kyushu Diocese
・Kindergarten outings
▲Enjoying the season and refreshing one's mind and body in nature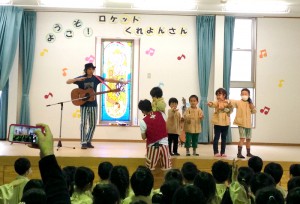 Programs for mothers and their kids

Assistant nurses from the Okinawa Diocese help the kindergarten face tomorrow amid all the difficulties confronting Fukushima

▲Massaging their babies with aromatic oil, mothers relax together with their babies

Assistant nurses from the Okinawa Diocese help the kindergarten face tomorrow amid all the difficulties confronting Fukushima

Summer holiday "refresh" (retreat) programs

River rafting in Gifu Prefecture.




Voices from families that participated in the retreat in Takashima,
Nagasaki (Kyushu, Japan) in 2015

I enjoyed diving again and again in the sea. I loved it so much that I hated having to go back home.
Takashima's sea was so beautiful! Fish were swimming around my legs, to my pleasant surprise. Also, I caught a cicada named "kumazemi" (a species of cicadas native to Japan), which is hard to find in Fukushima, and I still show it off to friends today.
I was amused and amazed to find some "sapphire devils" (tropical fish) in the sea there. Thanks for the precious time. I had great fun!
That was the best summer vacation I ever had. The sea, the sunset, and — everything was just gorgeous!
Swimming and diving in the crystal clear sea; I enjoyed so many things I did over there. I still appreciate the love all of you showed to us!
2.Support to temporary housing residents
"Support Center Shinchi Gangoya"
Some of the Center's staff resided in temporary housing located in Shinchi, Fukushima, in order to provide many kinds of help to the residents.
"Comfy" events (weekly to monthly)
Physical exercise for health, movie shows, mini-concerts, counseling, programs for kids, visits to evacuated hometowns, and many more activities

Wednesday café

Manual massage

Home visit-maintaining a close relationship with people.

Hair cuts

Annual events
summer camps, street performances, artistic creation, and more.

"Shamisen" (Japanese banjo) performance.

Visits, learning, interviews, pilgrimages
Visits to hard-hit areas, fellowship with others affected by the 2011 disasters.

~~ Voice from an on-site staffer ~~

Now, five years after the 2011 disasters, more and more refugees are finding new houses. However, most of those who are still resident in temporary houses are evacuees from the Fukushima Daiichi meltdown. Those residents share a strong sense of isolation, feeling "abandoned." Their sense of insecurity about their future, coupled with stress from poor housing conditions, is creating serious problems. Some are experiencing unwanted conflicts with local residents who are not refugees. I do see that the need for mental care for those evacuees is growing greater and greater as time goes by. In a situation like this, our weekly Wednesday Café provides a good opportunity for fellowship among the residents. We run many other seasonal programs as well, to bring the residents together.

From my experiences, I can say that the best help to the residents here, who are victims of the meltdown, is providing opportunities for them to share their questions, anger, etc. with those visiting them.

St. Timothy's Support Center, Onahama
This Center has been holding "Comfy Cafes" and running programs participating in local events that enhance fellowship among residents at two temporary housing complexes.

Izumi Tamatsuyu Temporary Housing Complex
(for evacuees from Tomioka, a town close to Fukushima Daiichi)

Making rice cakes

Outdoor lunch party

 Hiruno Temporary Housing Complex, Watanabe Town
(for evacuees from Okuma, a town at the foot of Fukushima Daiichi)

Comfy café

▲ Third and second-year children of St Timothy's Kindergarten visited the temporary housing to sing and enjoy fingerplays together with residents.

~~ Voice from an on-site staffer ~~

Recently, we are having less and less fun events here in the temporary housing. Our "Comfy Cafés," therefore, have become something that many can count on for fellowship, while they wait for their turn to move into publicly-owned houses for refugees. Many around the nation send snacks and goodies to encourage the residents, who appreciate them very much at every café.

Support to those residents moving into publicly-owned houses
We have been providing help to those aged and/or disabled residents of temporary housing with whom we have built up good relationships. We help especially with those issues that welfare administrations and social welfare councils often fail to notice, such as buying and assembling furniture for them, listening to their problems, etc. At the public houses they are moving to, they do not have many opportunities for fellowship like Comfy Cafes. This is one thing we are worried about for the years ahead.
Sign of the Times


– Column on Current issues
---
Margaret
The Fukushima Daiichi disaster has taught us a lesson, namely that every nuclear power plant must have a disaster countermeasures base in order (1) to protect those workers counteracting the disaster from radiation, (2) to store food and materials, and (3) to maintain communication with the relevant authorities, etc. Such a countermeasures base, built to be earthquake-proof, is required by the new safety standards for nuclear power plants (NPPs). The Tokyo Shimbun newspaper, however, conducted its own survey, as described in its article in the February 7th, 2016 edition, and has discovered that Kyushu Electric Power has abandoned a plan to build such an earthquake-proof base in the Sendai NPP, which it restarted in December 2015. The same power company has abandoned a plan to build such a new building for its Genkai NPP as well. At 11 of those 16 NPPs for which an application has been made for a restart inspection by the Nuclear Regulation Authority, the safety enhancement plan has been altered to do without an earthquake-proof countermeasures base. The reason is obvious—building such a base entails an enormous cost.
Standing firmly upon the conviction that every citizen's awareness and determination can affect the course of his/her country's future direction, it is my sincere hope that every citizen will join the movement to abolish nuclear power. By switching the foundation of our economy over to renewable energies, our economy can thrive.
"An Appeal from Wakasa, Fukui"
---
Revd. Tetsuen Nakajima
Priest at Myotsuji Temple, located in Obama, Fukui
(Note: Wakasa is a region in Fukui Prefecture, Japan, some 40 to 50 miles north of central Kyoto. The region hosts many nuclear power plants.)
Thanks to a provisional ruling by the Ohtsu District Court, Takahama Nuclear Power Plant's Units 3 and 4 are currently out of operation. Its operator, Kansai Electric Power, however, has filed an objection to the ruling, calling it "absolutely unacceptable." Should the power company win the case at the upper court, Kansai Electric says it will demand payment of compensation for the financial loss (JPY10 billion or so?) inflicted on the company while the two units have been out of operation from those citizens who petitioned for the ruling.
At the previous mayoral election in Takahama Town, which hosts the nuclear power plant (NPP), one major issue was whether or not to host the NPP. The power company asked many employees of its subcontractors and general contractors to move their citizen registrations over to Takahama so they could vote in the mayoral election. Thus, Kansai Electric helped the incumbent mayor, who supports the NPP, win the election. He is now serving his fifth term.
Also, before restarting the Takahama NPP this time, the power company held a concert performed by the Osaka Philharmonic Orchestra at a hall in Takahama, inviting some 500 residents of the town, free of admission. Then, around the end of 2015, along with three other organizations—the Association of District Leaders of Takahama, the town's Chamber of Commerce, and the Tourism Association—the power company asked the assembly of Takahama to permit the immediate restart of the NPP.
In Fukui Prefecture, a petition was submitted "not to permit the restart" to Governor Nishikawa The petition was signed by some 300,000 petitioners, including some mayors from outside Fukui, the greatest number ever among similar petitions there. Nevertheless, in Takahama Town , the signature collection faced some very tough problems. Historically, when Kansai Electric built Takahama's Units 1 and 2, and when it added Units 3 and 4, Takahama Town's mayors did not just say "yes" to the power company. Many residents of Takahama and neighboring municipalities, including many young mothers, held powerful protest movements against the NPP. In short, however, their protest activities were brought down by megabucks from the pro-nuclear camp—enigmatic "cooperation money," gigantic fixed asset tax income which becomes available to the hosting municipality once a NPP is built, national subsidies to the hosting municipality, etc. Also involved were the jobs provided by the NPP's many subcontractors. Thus, the local economy of Takahama has become more and more "addicted" to the NPP, and its residents are now reluctant to criticize nuclear power.
A local situation like this was still understandable right after the Fukushima Daiichi meltdown. Still, now five years after that, Takahama's local situation has not changed much. I have to call it "NPP megabuck fascism" and "domestic colonization." The Wakasa Region hosts 15 NPP reactors today, however, the power produced by them is consumed by the greater Kansai Region (Osaka, Kobe, Kyoto and their vicinities).  Fukushima Prefecture hosts 10 reactors, whose power is consumed by the greater Tokyo Region.
Now, in the court case to suspend the operation of Takahama, the plaintiff citizens of Shiga Prefecture (southern neighbor of Fukui) showed the world what an "action from conscience" is, and the judges of the Ohtsu District Court made an exemplary decision. They have greatly encouraged us, citizens of Wakasa. Both "hosting municipalities" and "consuming municipalities" will be victims of a major NPP accident. Before that happens, there should be a movement, supported by the majority of the nation's citizens, opposing NPP restarts and the prolongation of nuclear power. Such a movement is something to be equally participated in by both Christians and Buddhists, in solid friendship and in prayer.
Attention!
Kansai Electric restarted its Takahama NPP's Units 3 and 4, located in Takahama, Fukui, in January to February of 2016. Twenty-nine residents of neighboring Shiga Prefecture filed a lawsuit at the Ohtsu District Court, asking that the two units be stopped. The Court's chief judge, Yoshihiko Yamamoto, judged in favor of the plaintiffs and gave a provisional ruling to suspend the two units' operation, on March 9th.
In essence, the ruling said —
Good efficiency in power generation cannot compensate for immeasurable devastation caused by a major NPP accident.
The investigation of the Fukushima Daiichi meltdown has yet to identify the true causes of the tragedy. They still do not even know whether the earthquake or the tsunami, or both, was the true cause.
If we face the Fukushima disaster seriously, we need to establish a brand-new safety standard for NPPs, standing upon the principle that no severe accident should lead to irretrievable devastation. The current "new" standard lacks such a principle, and the escape plans and other measures are not sufficient.
Traditionally in Japan, a court judge has had to risk his/her professional career to make a decision to suspend a NPP. This brave new ruling by Mr. Yamamoto, however, has established a good precedence, one which hopefully will open up a new era when a judge with good common sense can suspend the operation of a NPP. We, the Project, sincerely hope this ruling will accelerate the movement to "go nuke-free."