Original Japanese written by  staffer
The English below written and arranged by Heeday, based on the original Japanese
The English edited by Rev. Dr. Henry French, ELCA
Below: Article from the March 13th, 2016 edition of the Akahata newspaper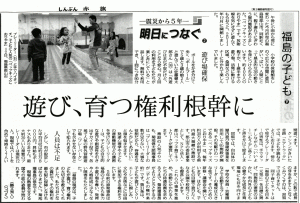 A "safe" place to play in
In Koriyama, Fukushima, there is a children's play facility named "PEP Kids Koriyama." Opened in December 2011, "PEP" has been providing children in Koriyama spaces where they can play as they want to, free from anxieties related to radiation.
So far, Fukushima Prefecture has opened 65 such facilities, taking advantage of its municipalities' projects to secure indoor playgrounds for kids. The precursor to them, PEP Kids Koriyama, is the largest of its kind in Fukushima, so far serving some 300,000 people each year. On commission from the municipal government of Koriyama, a non-profit organization called "PEP Network of Child Care in Koriyama," runs the facility.
Fun inside
Step inside the facility and you are in a large space, greater than a typical elementary school gym, surrounded by a great variety of play equipment. Here, playing with the equipment, a child can learn 36 basic types of body movements. There are also a sandpit 70m2 (753.5 square feet) in area, a tricycle circuit, a ball playground, and other equipment. In many parts of Fukushima, where radiation is still strong, children cannot play outdoors. Many kids and their parents come together at PEP from all over Fukushima.
Swimming pool? No, swimming balls!
Mr. Kentaro Sato (age 36) was having fun in the "ball pool," where a player "swims" in the pool of plastic balls, with his two daughters, aged 5 and 3 years. Said he, "Playing outdoors still makes us quite uneasy. Here we can play in peace. We play here three times a month, and my kids always love it." PEP Kids Koriyama is admission free, and you can play in it for 90 minutes each time.
— no play makes Jack a dull boy
Dr. Shintaro Kikuchi, a pediatrician involved in the administration of the play facility, has examined numerous kindergarteners and discovered that, following the Fukushima Daiichi meltdown, the children's rate of weight increase has declined to around a third of the rate before the disaster. The pediatrician also said, "The current tragedy of Fukushima has showed us how crucial children's right to play and grow up is. We adults are responsible to secure that right of theirs to the maximum."
---
A child in confinement
5 years ago, the Fukushima Daiichi meltdown took playgrounds and the opportunity for growth in physical strength away from Fukushima's children, leaving them with many developmental and growth problems.
A certain mother raising her child in Koriyama, Fukushima, said she has not let her child play outdoors since the meltdown began in March 2011. Both she and her husband have to work, and it is hard for them to drive with their child to somewhere far away on weekends so their child can play outside. Their child, therefore, simply plays video games at home on days off from school. One's childhood is important developmentally, and a childhood without the opportunity of playing outdoors can have seriously adverse effects on the child. The mother honestly said she was worried about her child's future. Her child is deprived of the happy memories that come from playing in nature, and she feels guilty for that.
The Japanese author's concerns
I too am deeply worried over Fukushima's children and their parents. Parenting in an environment like this is quite burdensome and can badly affect the whole family.