Original Japanese written by  staffer
The English below translated from the original Japanese by Heeday
The English translation edited by Rev. Dr. Henry French, ELCA
(Source: article of August 29th, 2015 edition of the Asahi Shimbun newspaper)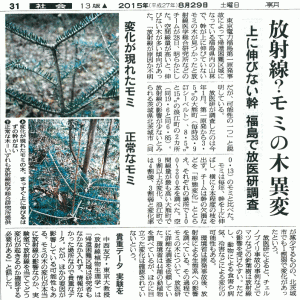 Japan's National Institute of Radiological Sciences (NIRS) conducted an examination of some populations of fir trees naturally growing in areas contaminated heavily by the meltdown of TEPCO's Fukushima Daiichi Nuclear Power Plant. The trees are located in areas within the "no-go" zones with especially high air dose rates of radioactivity. The Institute's analysis of the examination results found that, compared to those tree populations within areas with lower radioactivity, the heavily contaminated trees showed a remarkably greater rate of morphological changes. Also, the NIRS found that this rate increased in proportion to the air dose rate of radiation.
In the hardest-hit town, Okuma (33.9mSv/h), more than 90% of the fir trees surveyed showed some morphological changes, while in two places within neighboring Namie Town (19.6mSv/h and 6.85mSv/h, respectively) the abnormality rate was more than 40% and slightly less than 30%, respectively. Though this might seem to suggest a quick decline in the radiation effect with distance, actually around 10% of the trees surveyed in Kitaibaraki City (some 90km [55 miles] south of the nuclear plant) showed similar abnormalities.
Generally, coniferous trees are sensitive to radiation. This was proven by radiation exposure experiments with trees conducted in outdoor radiation exposure facilities (gamma fields) of the US and Japan, as well as by what was found around the Chernobyl Nuclear Power Plant, after its meltdown in 1986. We have reports showing that, in the vicinity of the Chernobyl disaster, two domestic species of coniferous trees, namely Scots pine (Pinus sylvestris) and Norway spruce (Picea abies), carried some obvious biological abnormalities.
The morphological changes found by the NIRS survey, though they provide precious data, have yet to prove that those fir trees are suffering from the effects of radioactivity, since some other factors, such as insect damage, diseases not caused by radioactivity, cold weather, etc., might have played a part. Thus, according to the Institute, the examiners now need to expose some fir trees to radiation in a lab to see what changes arise.
In Fukushima Prefecture, many are voicing their worries over those plants showing abnormalities following the nuclear plant meltdown.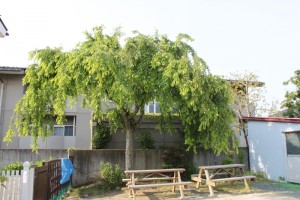 Someone who visited a forest in Tomioka Town, to the south of Fukushima Daiichi, told me (the author) that the forest is now crowded with numerous overgrown trees. I have always felt something is wrong with the plants here. Living in Koriyama City, Fukushima, I see countless overgrown roadside plants.
Judging from experiences following the Chernobyl tragedy, it will be years before scientists discover the causes of these abnormalities in plants. Here in Fukushima, while no expert has yet to make an official announcement admitting the effects of radiation, many, including myself, spend every day feeling anxious over what radiation might do to us humans. The changes with plants are so obvious no one can deny them.