Original Japanese written by  staffer
The English below translated from the original Japanese by Heeday
The English translation edited by Rev. Dr. Henry French, ELCA
(Sources: articles of September 1st, 2015 editions of the Asahi Shimbun and Fukushima Minpo newspapers)
A full thyroid checkup, carried out between the beginning of April and the end of June this year, to investigate the effects on human health of the meltdown of TEPCO's Fukushima Daiichi Nuclear Power Plant, found another child with a diagnosis of thyroid cancer. This means we now have 104 patients with a confirmed diagnosis of thyroid cancer, among the some 385,000 residents of the prefecture who were 18 years in age or younger when the meltdown began. These people were also examined during the preliminary thyroid checkup. Said Fukushima Prefecture's Citizen Medical Examination Committee, "At this point, it is hard to consider these cancer cases are ascribable to radiation."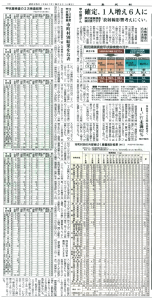 "Fukushima Minpo," the local paper of Fukushima Prefecture with the greatest circulation, had extensive coverage of these checkup results on Page 3 of the paper, while "The Asahi Shimbun," one of the major nationwide papers of Japan, printed only a small article about it, on its "Society" pages. (In the convention of most Japanese newspapers, the "society" pages come last, following pages about "politics," "foreign affairs," etc.)
Now, following the Chernobyl Nuclear Power Plant blast, which took place on April 26th, 1986, there were many reports of thyroid cancer in children living in the vicinity of the nuclear plant, especially among girls. Generally, experts say that thyroid cancer is usually found in one to three out of a million children. A few years after the Chernobyl tragedy, the thyroid cancer rate among children in the nuclear plant's vicinity showed a sharp rise. Also, the rate's peak time differed, depending on how old children were when they were exposed to radiation. Among those who were infants or very young when they were exposed (0 to 10 years in age), the rate peaked seven years after the accident. Then it slowly diminished until 1997, and later it came down to the pre-disaster level. Among those who were in adolescence at the time of the accident (10 to 19 years in age), the rate peaked 10 years after their exposure to radiation. Then it took a sharp drop in and after 2002, though it has never dropped enough to reach the pre-disaster level.
Still, some say that the rather small number of thyroid cancer cases found after the Chernobyl disaster were ascribable to some problems with the thyroid checkups conducted. Though the relevant authorities currently deny a cause-effect relationship between Fukushima's thyroid cancer cases and the nuclear disaster there, as more patients are diagnosed, they might have to admit this relationship.
(Source: September 1st, 2015 editions of Fukushima Minpo newspapers)
So far, we have only seen the results from the thyroid checkups that were conducted. No future estimate of potential cases has been given, and no detailed analysis has been made. However, the Fukushima Prefecture's Citizen Medical Examination Committee and the parents of children demanded, over and over again, that the effects from radiation must be made clear. The Fukushima Prefectural Government, therefore, has decided to conduct objective analyses of the thyroid checkups and study radiation-thyroid cancer correlations in each district. The government intends to predict the numbers of future patients of thyroid cancer in order to help its people take better care of their health.
Fukushima's mothers are seriously worried over their own children's health and future, yet they see no way to help their kids. Also, many have fled the prefecture following the nuclear disaster. Those remaining in the prefecture frequently ask themselves whether they are right in remaining there or not. Also, in their situations, they can bring up topics for discussion only if is really necessary to do so—there might be some people employed by the nuclear plant or related employers around them. Citizens are divided over their opinions about the effects of radiation. There is a complex web of interests. Furthermore, many children of Fukushima are not allowed to play outdoors, to minimize their exposure to radiation. Some are worried this might lead to a lack of physical strength in such children.
I sincerely hope that the planned new study of the thyroid examinations will answer questions from children and their parents and therefore wipe out their fears.