Original Japanese written by  staffer
The English below translated from the original Japanese by Heeday
The English translation edited by Rev. Dr. Henry French, ELCA
On November 9, 2015, a duo named "Rocket Crayons" held a concert at St. Paul's Kindergarten in Koriyama, Fukushima. The duo is loved by many kindergarteners. This was their third visit to St. Paul's Kindergarten, and the kids still remembered the duo's previous performances.
The duo consists of Mr. Takashi Yamaguchi and Mr. Satoshi Takada. In 1996, the two were working at the same nursery as children's nurses. They added some melodies to what children were saying, which led to some original songs and action rhymes. Then, in September 2004, they kicked off the duo, Rocket Crayons, which has since been performing in concerts that light up the audience's hearts. The duo has been striving to spread the message, "Life and friends matter."
▾ In a song-exercise named "Karada Karuta (Body Play Cards)," they sing and touch parts of their bodies. A kindergartener and Satoshi competed in this.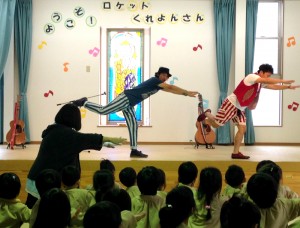 (Translator's note: "Tanuki" dogs, Nyctereutes procyonoides, are mammals native to East Asia. They do not exist in the Americas, Britain, Africa, the Middle East, or Australia. In Japan, there are many fairy tales of a "tanuki" turning itself into something else.)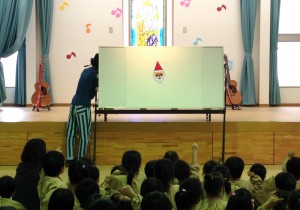 ▾ To conclude the concert, two nurses gave the duo small tokens of gratitude—two teddy bears, wearing the kindergarten's logo on their chests. The nurses had applied the logo to the bears, and the two recipients were very happy receiving them.
They all sang, danced, and communicated with each other with lovely smiles. The whole audience, including both the kids and the adults, was delighted. Many thanks, Rocket Crayons!!