Original Japanese written by Koichiro Sasaki, staffer
The English below translated from the original Japanese by Heeday
The English translation edited by Rev. Dr. Henry French, ELCA
On Friday, October 30, 2015, St. Paul's Kindergarten held its fall excursion. The kids and the faculty went to Kamegajyo Park, Inawashiro Town, Fukushima.
When the kindergarten held an athletic meeting the other day, I joined in and soon discovered that I needed to gain more strength and stamina. So I prepared myself well for this excursion by jogging and doing other exercises. The excursion was expected to involve a lot of running and walking around.
On the day of the excursion, it was slightly chilly here in Koriyama, Fukushima, yet we were bathed in comfortable, bright sunshine. Knowing that I would be having some "active" time with all those kids, I could tell that I would be hot soon and wore only a short-sleeved shirt. Though some nurses kindly asked me, "Aren't you chilly in that shirt?" I was already excited thinking of the park.
So, there we were in Kamegajyo Park. All of us did good warm-up stretches and shook our arms and legs. Then we kicked off the long-awaited running race in the form of a wild game named "Catch Ms./Mr. XX."
All the children chased after their nurses and instructors, who were supposed to "run for their lives," in order not to be tagged out. Needless to say, the kids ran around frantically, trying to tag the faculty members. This was a rather unusual experience for me, since I seldom run around on grass. When I run, it is usually on a paved road, and pavement and grass create different sensations in the legs and feet as I run. Still, in front of all those kids, I did not want to look like a worn-out old man. I simply had to run like a young criminal—until I ran out of breath, oh my God, in only five minutes. My legs were working wham-bam as well. The kiddy hunters were coming in from all directions, in a great number and with great vigor! Alas, the only choice I had was to give up and be tagged out.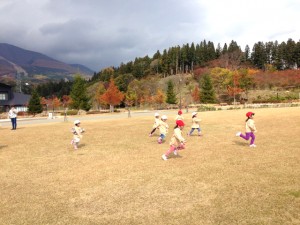 We had a plan to stroll around the remains of the Kamegajyo Castle. Then, however, the weather proved its capriciousness and it began to rain. We had no other choice but to have lunch and go home earlier than scheduled. (I had prepared well for visiting the castle—I learned its history in advance, and the sudden rain made me miss a good opportunity to prove I am a history buff.)
Still, the fall excursion was a lot of fun. Running around on grass is such a pleasure. The smells of plants and the wind made us feel the season passing from summer to fall. We learned the weather can suddenly change over mountains. I learned I need to build up my strength further. Most importantly, St. Paul's kids are always full of vigor and health.
I am already looking forward to an excursion to the same park next year.